We are currently running the FAAA Women in Financial Planning Mentoring Program, which aims to encourage and support women in financial planning. It is a six-month program that matches female FAAA members with another experienced FAAA member in a mutually beneficial development program.
The program involves:
Online training, reading material and workshops
Three scheduled program webinars to track progress
At least monthly contact between mentor and mentee
FAAA Women in Financial Planning Mentoring Program Information Pack
Applications for the 2023 FAAA Women in Financial Planning Mentoring Program are now open.
How does the FAAA Women in Financial Planning Mentoring program benefit participants?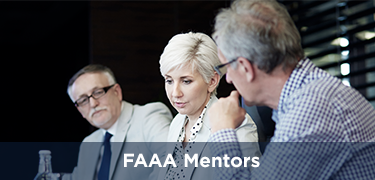 For Mentors
Opportunity to give back to the profession
Understand current issues relevant to the profession
Gain new perspectives and fresh insights, and sharpen your emotional intelligence and communication skills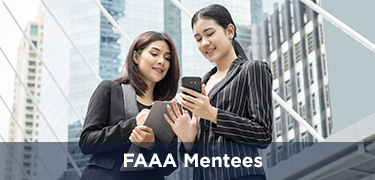 For Mentees
Receive experienced guidance and support in the profession
Excellent opportunities for networking
Receive feedback and developmental guidance
Identify professional growth and develop career planning
Who is eligible to apply for the FAAA Women in Financial Planning Mentoring program?
To join as a mentor, you must be:
A male or female within the financial planning profession
Member of the FAAA
Have at least 3- 5 years' experience in one or more of the following areas: client service or associate adviser roles, paraplanning, business development, compliance, practice management, financial planning or advice roles
To join as a mentee, you must be:
A member of the FAAA
A female working in the financial planning profession (students are eligible if they are studying a financial planning major and/or if they are working in the profession) who meets one or more of any of the following eligibility criteria:
Young (16 to 34 years old)
Mature (50+ years old)
Aboriginal or Torres Strait Islander
In a rural or remote area
Re-entering the workforce after a career or maternity break
Entering the profession for the first time and/or changing your career to financial planning
Wishing to upskill or refresh your skills in order to achieve leadership roles within the profession
Experiencing financial hardship
A new migrant.
Both mentees and mentors must also be willing to attend program webinars and complete the training provided.
Information session available for interested applicants
There was an online information session hosted by our partner Art of Mentoring on Monday 6 February 2023 at 12:00pm – 1:00pm to learn more about what to expect from the program
How to apply for the FAAA Women in Financial Planning Mentoring program
Mentees and mentors will be asked to complete a short application form to assess their eligibility for the program and to collect details about what they are looking for in a mentoring partner.
Key Program Dates
Applications Open
30 January 2023
Program Information Webinar
6 February 2023, 12:00pm – 1:00pm AEDT
Applications Close
17 February 2023
Matches Notified
Week commencing 27 February 2023
Program Launch Webinar
14 March 2023, 2:00pm AEDT
Program Progress Review Webinars
Mentees: 10 July 2023, 11:30am AEST
Mentors: 10 July 2023, 1:30pm AEST
Program Close Webinar
16 October 2023, 12:00pm AEST
---
Frequently asked questions
How long will the mentoring program run for?
Is the program open to FAAA members and non-members?
What's the cost?
How many people can participate in the program?
How do I apply?
Why do you need me to provide so much information on my application form?
When will I know if I've been successful, and if so, who I've been matched with?
What will I have to do if my application is successful?
Will discussions between mentees and mentors be confidential?
Will I be able to claim CPD hours in my role as a mentor or mentee?
Who do I contact for more information?