As the FAAA establishes itself as a united voice for the financial advice profession, we are working to create a powerful policy platform which will provide a strong framework for the association's advocacy efforts over the coming years. This will replace the previous FPA Policy Platform which is available to view below.
If you have any questions about policy issues please get in touch with the Policy & Advocacy team at [email protected].
---
The FPA Policy Platform
On 3 June 2020, the FPA released its policy platform for financial planning advocacy, 'Affordable Advice, Sustainable Profession'
The policy platform will guide our advocacy with government, regulators and other key stakeholders over the next five years. It continues FPA's long history of advocating for reform in financial planning for the benefit of consumers, practitioners and the Australian community. During 2019, hundreds of FPA members shared their views and contributed to the development of this policy platform when they responded to FPA's discussion paper. We thank FPA members for the critical role they have played in shaping our new policy platform.
We have made 19 recommendations for action, ranging from achievable short-term goals to major, big-picture ideas. These include:
a range of recommendations about sensible and streamlined regulation
a focus on pursuing individual professional registration in place of corporate licensing for financial advice
renewing our call for tax deductibility of all financial advice.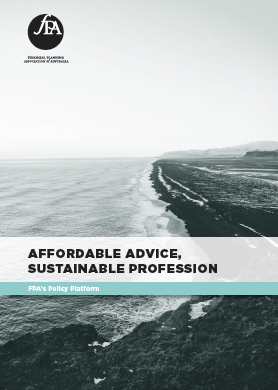 FPA Policy Platform
Log in to the FAAA Member Portal to download the Policy Platform, "Affordable advice, sustainable profession"