The Framework fosters both high professional standards and consumer protection. We are dedicated to helping FPA members understand the Code and how best to provide professional services to their clients. Breaches of the FPA Professional Code are taken seriously by the FPA and may result in a member being subject to our Disciplinary Process.
FPA members are bound by the FPA Professional Code, which brings together a comprehensive set of ethical principles.
The FAAA Professional Code is a continuation of the previous FPA Professional Code. This document will serve as the interim Code whilst the FPA undertakes Member consultation to assess whether the Code should continue in its current format.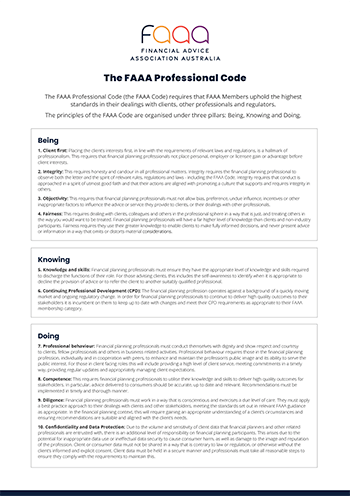 The FAAA Professional Code
Download and print your copy of the FAAA Professional Code.
To support practitioner members in applying the Professional Code in practice, the FAAA provides the Best Practice Standards, which set out guidance as to how to provide the Code in day-to-day practice. As the financial planning landscape changes, we update the Best Practice Standards to ensure it remains relevant to the regulatory environment at the time.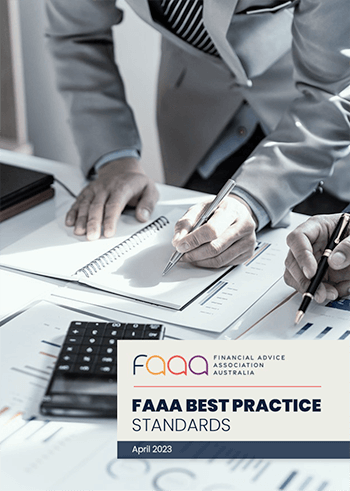 FAAA Best Practice Standards
Download the FAAA Best Practice Standards document.
Breaches of the Code
Our members play an important role in ensuring we maintain high standards within the FAAA membership. If you suspect that another member may have breached the Code, we ask that you let us know by email to [email protected].
FAAA Professional Code FAQs
Following the release of the FAAA Professional Code, we felt it would be helpful to provide answers to some of the questions we have received regarding the updated Code, and how it applied to our members. If you have a question on the Professional Code please feel free to email the Professionalism Team's dedicated inbox [email protected].
Who does the Professional Code apply to?
What is the Best Practice Standards Guidance?
How is the Code enforced?
What if I have another question not answered above?