This year once again, we're joining forces with the global celebration of World Financial Planning Day on Wednesday 4 October.
Each year, the FAAA and our members celebrate Financial Planning Week to raise awareness about the benefits of financial planning amongst Australian consumers.
FAAA member toolkit
To celebrate Financial Planning Week 2023, the Financial Planning Standards Board (FPSB) has commissioned the FPSB Value of Financial Planning Research 2023 to highlight and promote the value of financial advice for consumers.
The study examines the value of financial planning, measuring the financial and non-financial impact of financial planning across quality of life, financial confidence, financial satisfaction and experienced value, while debunking the myths surrounding financial planning and analysing the future of the profession.
Members are encouraged to join the celebrations and share messages highlighting the importance of financial planning to their community, a toolkit of helpful resources has been emailed out to FAAA members.
The FAAA Member Resource Toolkit for FP Week 2023 includes:
Visual infographic summarising commissioned FPSB Value of Financial Planning Research 2023  – available now
Social media tiles – available now
Full presentation on commissioned research findings – available from Wednesday 4 October!
Research Infographic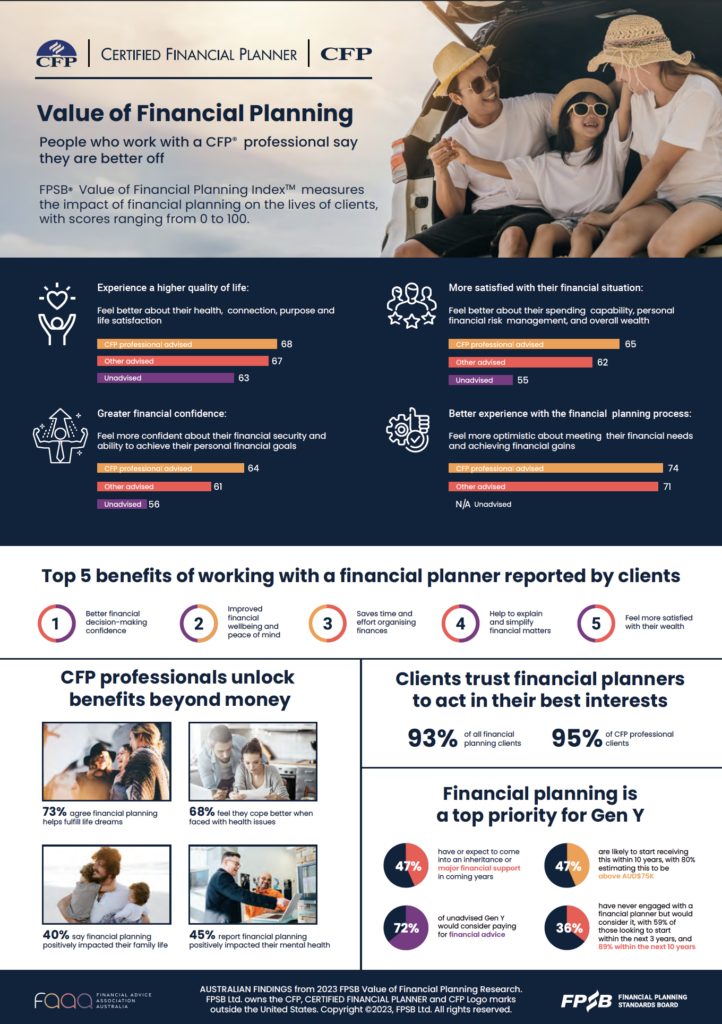 Download the full research insight presentation

Social media tiles
Download the toolkit to access a full suite of tiles for LinkedIn and Instagram.

FP Week in the media
Financial Planning Week will be promoted across national media, with key research findings shared across radio, TV, print and online.
---
For consumers
Connect with a financial planner
If you're ready to find out how financial planning can help you, make an appointment with an FAAA member who is a qualified financial planner. To help find a financial planner near you, search our online Find a Planner directory.
Money & Life
The FAAA's content hub Money & Life is designed to help you learn more on how to improve your financial wellbeing with access to free information.
Social media
Follow the Financial Planning Week conversations on social media using #WFPD2023 and #FAAAFPWeek2023.